Cerec 3D. CAD/CAM dental technology
Cerec (Sirona) is just one of the dental restoration fabrication systems employing CAD/CAM technology that we can offer to our patients. It offers unmatched aesthetics, fit and strength, while maintaining the teeth's own healthy structure.
A camera scans and captures a highly precise 3D image of the teeth. Next, with the help of a computer, we design the appropriate restoration (crowns, inlays, bridges, veneers, etc.) and finally a robot cold works the restoration from perfect blocks of different types of ceramic, composite or other materials, thus creating a solid piece, with no porosity and with a precision of fit down to an astounding 30 microns.
With this system we can create the prosthesis based on the anatomical form of the rest of the patient's teeth. Similarly, it is possible to make a mirror image of the tooth on the other side, producing a perfectly symmetrical and natural restoration.
The Cerec 3D CAD/CAM dental system means we can fabricate dental restorations with a precision of fit down to 30 microns.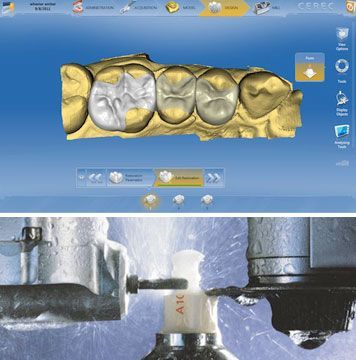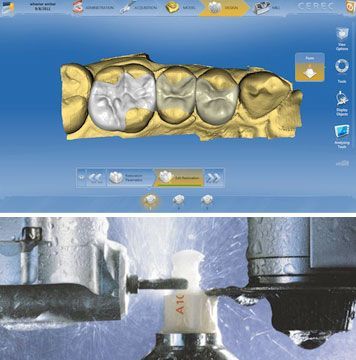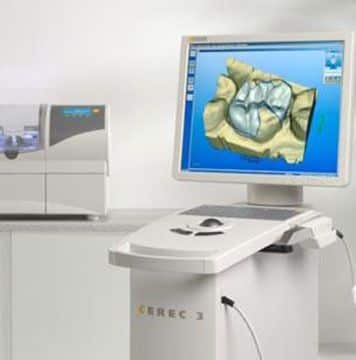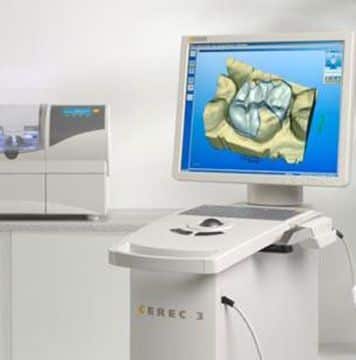 In 1992, Padrós Dental Clinic pioneered the application of CAD-CAM dental use in Barcelona. Today we continue offering the latest version of CEREC 3D system.
Example of a real case at Clínica Dental Padrós in which a conventional crown was replaced with a metal-free ceramic crown. The Cerac CAD/CAM system enables us to design a mirror image of the tooth on the opposite side.