Computer Aesthetic Dental Simulation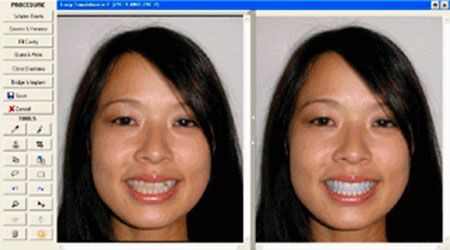 Not only do aesthetic dental treatments result in more attractive teeth but they also improve the general appearance of a person's face.
With our computer-assisted aesthetic dental treatment simulation programs, in a matter of a few minutes, we can see the changes that will occur in the face's appearance after improving the smile.
It is surprising to see the effect on the general appearance of the face produced by aesthetic changes to the teeth.
If you would like to see how modifying your smile can improve your appearance, do not hesitate to contact us and we would be happy to carry out a computer simulation, free of charge and with no obligations.
Dental aesthetics. Computer simulation of the change in your smile means you can see how the general appearance of your face will improve