Courses
We have delivered material in over 100 courses and conferences throughout Spain, as well as in Germany, Andorra, Italy, France and the United States. Our courses have been selected by the Spanish General Council of Odontology and Stomatology Colleagues for many years now.
We have spent 4 years presiding over the Catalan Odontostomatological Society (SCOE).
We have directed the SCOE postgraduate course in Advanced Aesthetic Dentistry for the last 8 years.
And for 4 years we have also been fulfilling the role of Professor of Implantology at the Polytechnic University of Catalonia.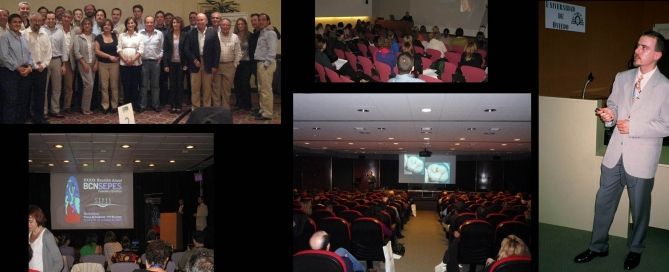 List of dentistry courses taught
Continuing education provided
| | | |
| --- | --- | --- |
| YEAR | CONTINUOUS TRAINING COURSES | CITY |
| 2015 | Multidisciplinary Dental Material Meeting | HANAU |
| 2013 | Ideas, materiales y Técnicas para superar dificultades y titubeos en el ejercicio de la odontología clínica | PALMA DE MALLORCA |
| 2011 | Soluciones sencillas a problemas incómodos en la práctica clínica | BARCELONA |
| 2010 | I Simposio de Adhesión y Cementación | BARCELONA |
| 2010 | Cad Cam en odontología | BARCELONA |
| 2010 | Implantes dentales de última generación | BARCELONA |
| 2010 | ¿Qué tipo de materiales y qué técnicas debemos utilizar para que las restauraciones directas sean una alternativa terapéutica fiable a medio-largo plazo? | MADRID |
| 2010 | El Cerec 3D y las nuevas cerámicas en la clínica práctica. | BARCELONA |
| 2009 | Postgrado odontología integrada | BARCELONA |
| 2009 | Estética dental avanzada | SEVILLA |
| 2009 | La rehabilitación protésica paso a paso | BARCELONA |
| 2009 | Prevention, restoration and aesthetic dentistry (CONSEURO) | SEVILLA |
| 2007 | Formación continua. Postgrado estética dental avanzada | BARCELONA |
| 2006 | Formación continua teórico práctica en técnicas y tecnologías avanzadas sobre prótesis dental. | BARCELONA |
| 2006 | Novedades en Odontología Práctica | GRANADA |
| 2002 | Recent Achievements in Restorative Dentistry | KONSTANZ |
| 2001 | Estética dental con composites y cerámicas | BILBAO |
| 2001 | Protocolos prácticos en Operatoria Dental | MADRID |
| 1998 | Confidencias en odontología práctica | OVIEDO |
| 1998 | Utilidad práctica de RVG, TScan, Cerec, NewImage, QuickCeph, Apit, Stat-Im, Florida Probe y otros avances tecnológicos. | BARCELONA |
| 1998 | Confidencias en odontología práctica | VALENCIA |
| 1998 | Actualización en adhesivos y composites y su aplicación clínica. | BARCELONA |
| 1998 | Confidencias en odontología práctica | LOGROÑO |
| 1998 | Confidencias en odontología práctica | MURCIA |
| 1997 | Formación continua. Nuevas tecnologías en odontología | BARCELONA |
| 1997 | Trucos secretos en odontología.  Trucos, truquitos y truquetes. | BARCELONA |
| 1995 | Adhesive dentistry | COLONIA |
| 1994 | Adhesión dental | ANDORRA |
| 1993 | E.S.E.M. in adhesive dentistry research | PARIS |
| 1991 | Amalgamas adheridas. Unión y microfiltración | BARCELONA |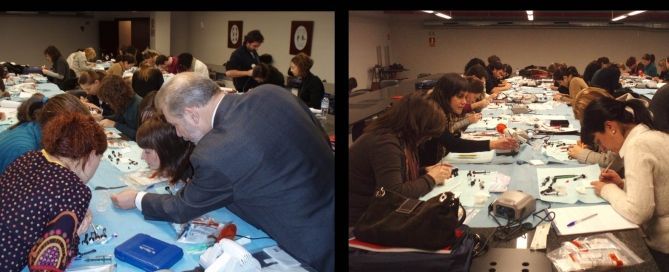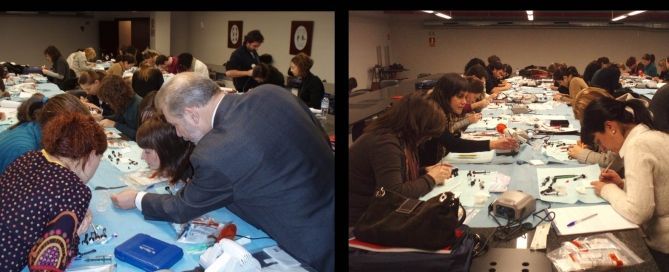 List of dentistry courses attended by members of the Clínica Dental Padrós team
Ongoing training received
| | | |
| --- | --- | --- |
| YEAR | Title of continuing education dentistry course | Drs. Who teach the course |
| 2016 | Periimplantitis | David Morales Schwarz |
| 2015 | Protocolo BOPT | I. Loi, J. Perez, X. Rodríguez, X. Vela |
| 2015 | Reunión anual de Sepes | SEPES |
| 2015 | Rehabilitación oral | A. Alonso |
| 2015 | Gestión de clínica dental | COEC |
| 2015 | Encerado diagnóstico | I. Ronald |
| 2015 | Composites estéticos | D. Hartlieb |
| 2015 | Técnicas y manejo quirúrgico-restaurador del implante unitario en el sector anterior | I. Gamborena |
| 2015 | Descubriendo el código estético | A. Pérez |
| 2015 | European Damon forum | R. Perera |
| 2015 | Micro-experience | Zeiss |
| 2015 | Diagnóstico y control funcional del paciente con desgastes dentarios | J. Kois |
| 2015 | Microvision anteriors | M. Belograd |
| 2015 | Odontología microscópica | C. Del Rey, G. Carrera |
| 2015 | Diploma de diseño avanzado cad-cam | 3Shape Academy |
| 2015 | Lideratge i gestió de clínica dental | ESADE – COEC |
| 2014 | Skyn Concept – Digital Smile Design Workflow | P. Kano, L. Yoshinaga, F. Cofar, J. Kunkela, A. Pineda |
| 2014 | Dentcof Marketing Strategy | F. Cofar |
| 2014 | Masking technique veneer course. Advanced ceramic workshop | M. Magne |
| 2014 | Certificación Dros Konzept | F. Weisz |
| 2013 | Certificate DSD. Digital Smile Design and interdisciplinari communication in esthetic dentistry | C. Coachman |
| 2012 | Taller sobre mesures bàsiques d'higiene en els centres d'odontologia | J. Davins |
| 2011 | Análisis técnico y gestión del riesgo | J. Madrigal |
| 2011 | Psicología del mercado financiero | J. Madrigal |
| 2010 | International Education Program in Advanced Esthetic Dentistry | Nowzari (International Academy of Esthetic Dentistry) |
| 2010 | Decision Making Protocols in Implant Dentistry | D. Garber |
| 2009 | Tratamiento de tejidos blandos y duros en cirugía implantológica avanzada | M. Simion |
| 2009 | Reunión anual de SEPES | SEPES |
| 2009 | Curso teórico-práctico de situaciones de urgencia en la clínica dental R.C.P. | C. Martín, A. Serrano, M. Canales |
| 2009 | Reunión anual de Sepes | SEPES |
| 2008 | Congreso nacional e internacional de la Sociedad Española de Implantes | SEI |
| 2008 | Congreso Internacional de la Sociedad Española de Implantes | SEI |
| 2008 | Curso sobre adhesión total a tejidos duros y clínica aplicada | J. Uribe Echevarria |
| 2008 | Actualización en Odontología Estética sobre Implantes | A. Sadan |
| 2007 | VI Simposio Internacional de Implantología Oral | BTI |
| 2007 | La doble corona cónica galvanizada. Biocompatibilidad, estética y ajuste pasivo en prótesis | J. Arano |
| 2007 | Simposio internacional de implantologia oral |   |
| 2006 | Simposio nacional  sobre estética dental y cerámica sin metal | SEPES |
| 2006 | Simposio nacional  sobre estética dental y cerámica sin metal |   |
| 2006 | Arte en la restauración cerámica implantosoportada | D. Adolfi |
| 2005 | Excelencia en restauraciones cerámicas adheridas | P. Magne, M. Magne |
| 2005 | Il Composito nel terzo millennio. Didattica, clinica e ricerca | L. Vanini |
| 2005 | Rehabilitación estética en prótesis fija | M. Fradeani |
| 2004 | Straumann Certification | Straumann |
| 2004 | Plan de tratamiento de los sectores anteriores.  Investigación y estética.  Razones de una elección | V. Devoto |
| 2004 | Congreso de la Sociedad Española de Prótesis Estomatológica | SEPES |
| 2003 | Reality Publishing Members Revelation Conference | M. Miller |
| 2003 | Prótesis completas | J. Suarez |
| 2003 | Excelencia restauradora:  Un compendio de innovaciones de procedimiento | W. Liebenberg |
| 2003 | Diagnóstico estético y plan de tratamiento.  Control de calidad estético: La clave del éxito | G. Chiche |
| 2003 | Regeneración Tisular Guiada | C. Tinti |
| 2002 | Odontología adhesiva directa con composites | A. Arellano |
| 2002 | Excelencia en la preparación y obturación de los conductos radiculares | E. Brau, C. Canalda |
| 2002 | Curso de endodoncia | A. Malentacca |
| 2001 | Osteology 2001 Symposium | D. Buser, N.P. Lang |
| 2001 | Miembro diplomado de la Sociedad Española de Implantes | SEI |
| 2001 | Trtamiento exitoso del paciente con disfunción craneomandibular | R. Levandoski |
| 2001 | Tratamiento integral:  Ortodoncia, Periodoncia y Prostodoncia | B. Zachrisson |
| 2001 | Diplomado en Implantología por la Sociedad Española de Implantes | SEI |
| 2001 | Present i futur de la investigació sobre els implants dentals | F.J. Gil |
| 2001 | Ortodoncia, implantes y prótesis combinados en la clínica práctica | V.G. Kokich, F.D. Spear, D.P. Matthews |
| 2000 | Certificación de adjunto en implantología | SEI |
| 2000 | Técnica para el retratamiento en endodoncia de alta dificultad | P. Machtou |
| 2000 | Los mejores mteriales y técnicas en odontología restauradora | A. Lacy |
| 2000 | Actualidad implantológica | Klockner |
| 1999 | Diploma de miembro adjunto de la Sociedad Española de Implantes | SEI |
| 1999 | International Symposium of Advanced Adhesive Dentistry | Kuraray |
| 1999 | Congres català d'Odontoestomatologia |   |
| 1999 | Implantologia y estética. Harmonia en los procedimientos quirúrgicos y restauradores | P. Wohrle |
| 1999 | Odontología Adhesiva. Visión actualizada.  Qué es discutible y qué no lo es | J. Perdigao |
| 1999 | Experiencias Clínicas | D. Buser |
| 1999 | Cambios tecnológicos en las restauraciones anteriores y posteriores. ¿Son clínicamente fiables? | R. Erickson |
| 1999 | Regeneración Ósea Guiada en Implantología | K. Ackermann |
| 1999 | Curso de Implantología Avanzada y Remodelación Ósea | E. Sada |
| 1999 | Regeneración Ósea Guiada en Implantología | L. Ackermann |
| 1999 | Forum Dental del Mediterráneo |   |
| 1998 | Curso teórico-práctico de cirugía mucogingival | J. Garcia |
| 1998 | FDI (Federación Dental Internacional) World Dental Congress | FDI |
| 1998 | Tratamiento exitoso del paciente con disfunción craneomandibular | J. Okeson |
| 1997 | Instrumentación mecánica rotatoria | G. Cantatore |
| 1997 | Preparación Biomecánica de Conductos | B. Zabalegui |
| 1997 | Actualización de materiales y técnicas en odontología restauradora. (University of Southern California) | G. Christensen |
| 1997 | Certificado de capacitación en el manejo del Láser de clase IV |   |
| 1997 | Jornadas para odontoestomatólogos y Cirujanos Maxilofaciales | CEIP |
| 1997 | Congreso de la Sociedad Española de Odontología Conservadora | SEOC |
| 1997 | Certificado Friatec training course | M. Farmand |
| 1996 | Certificación para dirigir instalaciones de radiodiagnóstico dental | Consejo seguridad nuclear |
| 1996 | Estética predecible en coronas y puentes del frente anterior | G. Chiche |
| 1996 | Certificate in Implant Practice Development | P. Wohrle, V. Salagaray |
| 1995 | Nuevos conceptos en el manejo de tejidos blandos periimplantarios. Regeneración de papilas | P. Palacci |
| 1995 | Congreso SEOC | SEOC |
| 1995 | Complicaciones y fracasos de los implantes osteointegrados | M. Bert |
| 1995 | Simposium sobre hiperestesias dentinales | C. Mendieta |
| 1995 | Adhesivos dentales | J. Kanka III |
| 1995 | Nuevos conceptos en preparación biomecánica y obturación de conductos | G. Glickman |
| 1995 | Éxito-fracaso en la terapéutica endodóncica | B. Zabalegui |
| 1995 | Clinical and biological advances in oral implantology | K. Beacham |
| 1995 | Certificado miembro activo SEI | SEI |
| 1994 | Bases anatómicas de los implantes osteo-integrados. Cátedra de anatomía. Universidad Complutense | J. Jiménez |
| 1994 | Curso de composites y odontología estética | M. Antón-Radigales |
| 1993 | Certificación implantes Steri-Oss | Denar |
| 1993 | Congreso de la Sociedad Española de Odontología Conservadora |   |
| 1993 | Simposium internacional de implantologia oral | CEIP |
| 1993 | Endodoncia | L. Tronstad |
| 1993 | Odontología Conservadora Estética | R. Grandini, F. Bertini |
| 1993 | Periodoncia | J. Lindhe |
| 1993 | Tratamiento multidisciplinario en rehabilitación oral | M. Garcia Calderón |
| 1993 | Osseointegration & Growth | D. Harris, M. Quirynen, J. Pi |
| 1993 | Curso avanzado de periodoncia. Tratamiento multidisciplinario entre periodoncia, prostodoncia e implantes | D. Kohn |
| 1993 | Estancia intensiva en implantología oral y prótesis implantaria | M. Avayou |
| 1992 | Técnicas avanzadas en implantología oral | P. Boyne, J. Lozada, V. Salagaray |
| 1992 | Rehabilitación oral. Prótesis fija metálica y ceramometálica | E. Mallat |
| 1992 | Actualización en Odontología General y Prostodoncia Fija. Nuevos materiales, técnicas y procedimientos | A. Lacy |
| 1992 | Formación continua. Tratamiento clínico de los desórdenes craneomandibulares | J. Okeson |
| 1992 | Certificación para el uso de membranas de Gore-Tex en regeneración ósea guiada | Gore |
| 1991 | Simposium internacional de implantologia oral | CEIP |
| 1991 | Conceptos de actualidad y métodos en endodoncia quirúrgica y no quirúrgica | M. Abou-Rass |
| 1991 | Symposium internacional de implantologia oral | CEIP |
| 1991 | Curso teórico-práctico en implantología dental | A. Padrós |
| 1991 | Update in removable prosthodontics | K. Porter, M. Connelly |
| 1990 | Hands on course on dental esthetics | R. Ipsen |
| 1990 | Jornadas Odontológicas de la Europa del Sur |   |
| 1990 | Update in Esthetic Dentistry. Techniques and Materials.  University of Texas. Dental Branch | K. Porter, M. King |
| 1990 | University of Southern California (USC) international continuing education program | USC |
| 1990 | Hipnoterapia médica | Fassman |
| 1990 | Hands on course en Endodoncia | J. Roane |
| 1988 | Puentes adhesivos tipo Maryland | B. Bishop |
| 1986 | Curso sobre oclusión dental | S.P. Ramfjord |
| 1985 | Prevención y profilaxis de las enfermedades periodontales | J.J. Cambra, J.J. Echeverria, J.J. Vilar, V. Rytzner |